Passover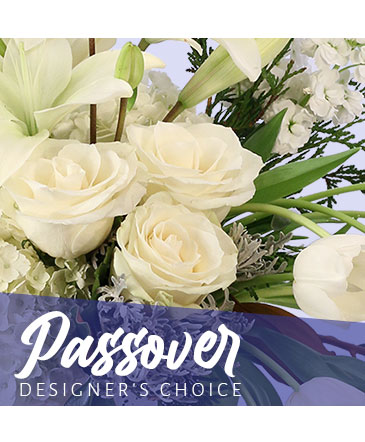 Passover Flowers
Designer's Choice
Delightful spring blooms are the perfect way to celebrate Passover! Our expert florists will create something as wonderful and inspirational as the holiday you're commemorating. Add some awe-inspiring flowers to your Passover celebration and festivities! They're sure to get everyone into the spirit of the holiday.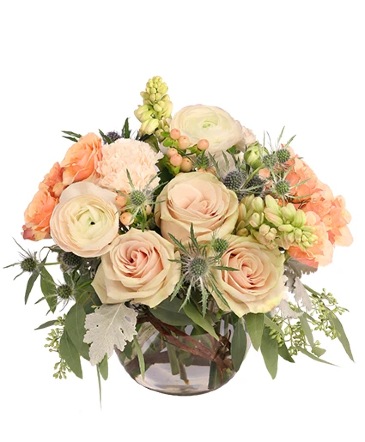 Serene Spirit
Vase Arrangement
With its elegant charm, Serene Spirit is an exceptional bouquet for any occasion. This arrangement is a vision composed of light pink carnations and roses, peach carnations and spray roses, white tuberoses and ranunculus, and greenery. Send this floral bouquet to someone you love today!
Beautiful Passover Flowers
This Passover add a beautiful spring arrangement of blues and whites to your table.
Classic Passover Flowers
Classic Passover flowers of daisies, roses, violets, carnations, irises, tulips, and hyacinths make a beautiful Passover Seder centerpiece. Include spring flowers of daffodils and lilies to add a burst of happiness to your Passover meal. Blue and white are the most popular colors for the Jewish holidays. Include popular white flowers of calla lilies, roses, gardenias, and add touches of blue with delphinium, hydrangeas, and irises.
Perfect for Your Passover Host
If you are going to a family or friend's house for your Passover dinner, don't forget to bring your host a gift. A lovely flower arrangement makes the perfect addition to their seder table. Send flowers in advance to your Passover host so they can include them in their Passover decorations.
Order Early
Place your order early to ensure you get your favorite flowers, as spring is a busy season for the flower industry. We want to ensure your Passover florals are exactly what you want. Though we are located in Center Moriches we offer flower delivery to wherever your destination may be. Whether that is right up the road or the next state over, we are here to add that special touch to your celebration.